N ew business models, changing consumer behaviour and digital technologies are leading to enormous changes along the value chain. These changes affect all core and sub-processes in companies. At the same time, new cooperation models are emerging that offer completely new opportunities for SMEs.
In the vision of completely digital processes, software controls the entire production process and takes care of the ordering and delivery processes. The activities become transparent through automated machine-to-machine communication. Employees only have to intervene in the processes if malfunctions prevent smooth and efficient operation.
Many medium-sized companies, some of which are already confronted with digitization through the efforts of their customers in industry 4.0, are neither software-side nor with their processes adjusted to it. The consequences of Industry 4.0 are manifold and affect not only the individual companies, but the entire industry: Rigid production plants are replaced by flexible systems, new service companies become an integral part of industry, self-controlling agile systems replace hierarchical systems, and data management becomes an essential value-added factor.
These challenges cannot simply be solved with the introduction of new software, but require a holistic view of all processes in the company. As the survey below shows, in addition to the introduction of new software systems, factors such as cross-departmental cooperation or the training of employees are key success factors.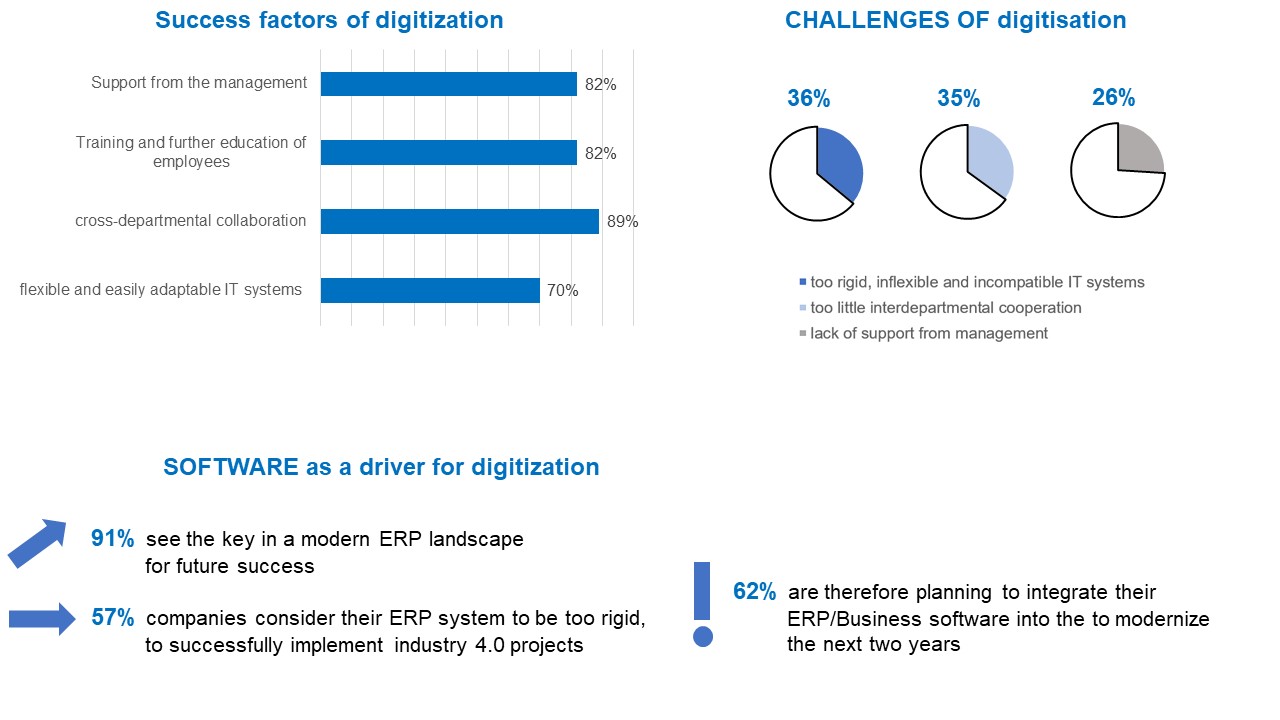 After all, only very few companies see digitization as a real threat, so that it is worthwhile in any case to intensively deal with the opportunities for their own processes.
What does "holistic view" mean?
As already stated in the vision, digitization affects all areas of the company. It therefore makes little sense, for example, to introduce a single software solution for a sub-process if other areas continue to be operated analogously. From the consulting business with medium-sized companies, however, I know exactly this procedure.
A small company is looking for a new enterprise resource planning system because it is dissatisfied with order processing due to long search times and low service quality. In the discussion about the selection of the software, however, the actual problem comes to light: in the entire ordering and processing process there are no less than four media breaks. This means that data is either digitized or read out manually from the time the goods are ordered until they are delivered, with all the potential for errors and inefficiencies that this process entails.
In such a case it becomes obvious how valuable a holistic view according to Business Process Management is (BPM approach). The goal of this approach is to optimize value chains holistically and thus to respond to flexible customer requirements in a quality-oriented manner. This is not only associated with a process change within the company, but also entails changes in the organization. Existing hierarchies are overcome, cooperation between the individual departments is promoted and functional interfaces are overcome.
An organisation 4.0 also means, however, that the employees are equipped with the corresponding competences and that the organisation is structured in such a way that it is a learning system. Successful process digitization ultimately leads to a flexible system that can react quickly to customer requirements.
How can I implement this in my company?
First of all, it has to be considered which processes cause the most urgent need from the point of view of the company. Where are there concrete problems or inefficiencies that have to be eliminated? In the next step, companies should consider whether these are internal processes that need to be digitized or whether they are integrated into the supply chain, which requires the involvement of suppliers or customers (vertical integration). The aim is to ensure that the entire process is digitalised end-to-end and that media breaks do not impede processing.
This means that all automation components from the machine data to the management level are linked with each other. The strategic approach to this is provided by a reference and regulatory framework that can map holistic process management. The MITO model, which systematically describes the components of a business process according to the DIN EN ISO 9001 definition, is ideal for this purpose for many manufacturing companies.
The model contains four model segments: management, input, transformation and output and thus provides a process-oriented approach that can then be mapped by software. If the company succeeds in implementing these process-related steps in the organization, the result is not only an efficient system, but also one that is capable of learning.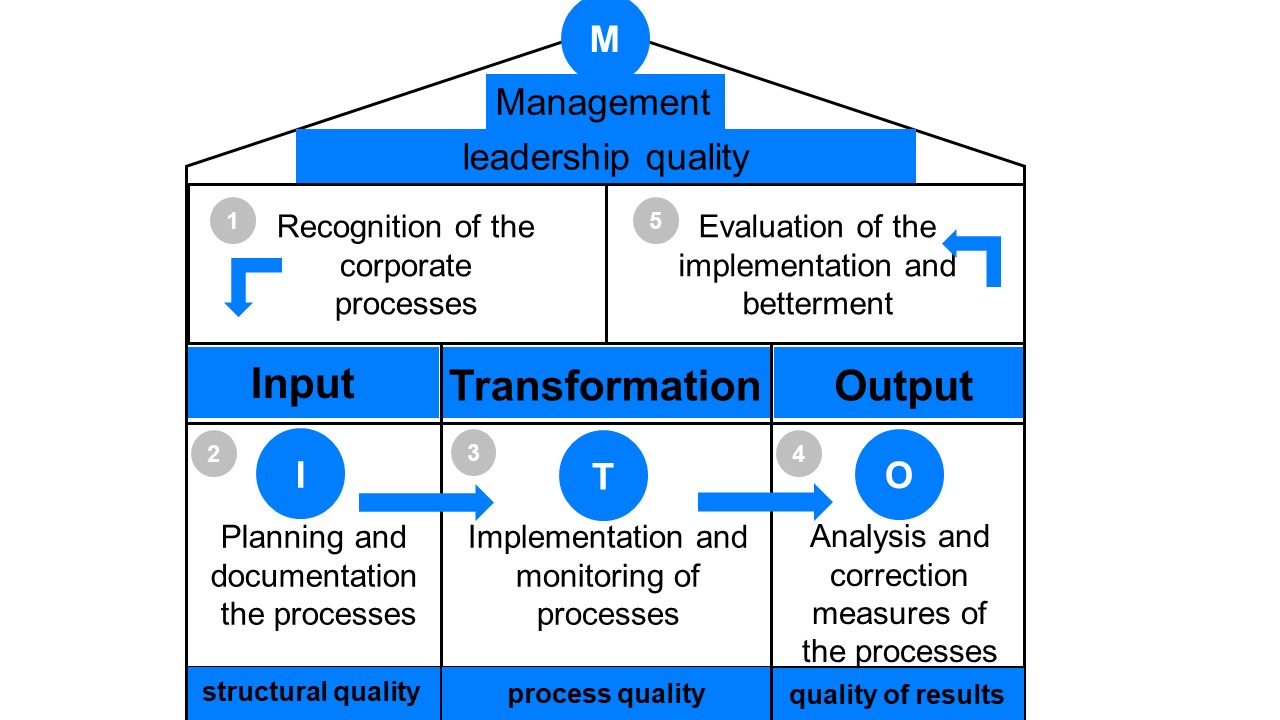 Where do you start tomorrow?
The development of new processes and structures is always very complex and therefore acts as a deterrent for many companies. The first step towards process digitization is not as complex as many may fear. For the medium-sized company, the central question is how to get started with digital transformation without immediately rebuilding the entire company with unmanageable investments.
For this, concrete steps are recommended:
Identify and prioritize inefficiencies (time wasters) and media breaks in your processes together with your employees.
Talk to your largest customers and suppliers about what requirements they might have for their processes in the near future.
Design one or two pilot projects that can be implemented on the basis of the analysis, for example: predictive maintenance, fault detection and fault tracking, workpiece tracking.
If necessary, start the project with external support and make use of the available funding opportunities.
---